A little drama played out yesterday as PSG beat Lyon 2-0 to extend its perfect record in the French league to six matches. Moments before PSG's penalty kick, star forwards Neymar and Edinson Cavani clashed over set-piece duties.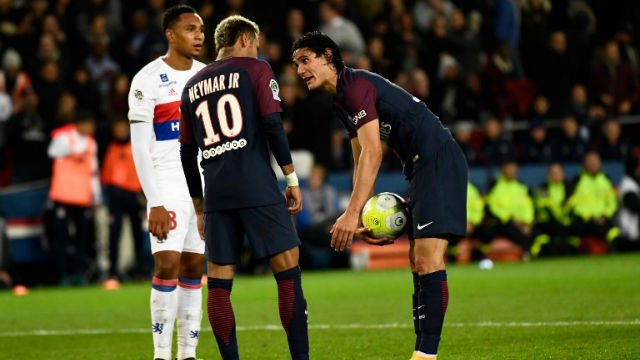 A few minutes before that, Cavani had tried to take a free kick but Dani Alves took the ball and gave it to the former Barcelona star, unfortunately, Cavani's 79th minute strike was saved by Lyon's Anthony Lopes.  Neymar's action drew ire from football fans, with many claiming he was being disrespectful to a club legend, others applauded his move, adding that he is more valuable to the club and should not play the second fiddle.
Interestingly, Neymar reportedly unfollowed Cavani on instagram after the incident.
See our top reactions below.
Cavani can bully Neymar out of penalties all he wants, but if this tension continues, Neymar will be bullying him out of the club.

— Juan (@fraudiesta1) September 17, 2017
Dani Alves and Neymar so disrespectful and childish, Cavani is a club legend have some respect you just got here

— G (@crxzyslots) September 18, 2017

https://twitter.com/indermethil/status/909627538212663297
No matter how Neymar and Alves are talented, Cavani already is a legend in Paris, they can't just arrive and erase the last 5 years #PSGOL

— Beytey 🦉🇫🇷👌⭐⭐ (@Seb_Bt) September 17, 2017

https://twitter.com/PerryHayes15/status/909565444167790592
If Cavani wants to continue playing at PSG he must accept Neymar is the King.

— JJ. Omojuwa (@Omojuwa) September 17, 2017
Egos clashing between Neymar & Cavani at PSG proves how massive Messi is — not just as a football player, but as a person.

— XH6 (@XaviAssist) September 17, 2017
Neymar:"I want to take the penalty!" Cavani: "do I look like Messi" .😂https://t.co/lRTghtMq8t

— Wism (@FCBWiz) September 17, 2017

https://twitter.com/_ASakka/status/909520487973363721
https://twitter.com/BaguetteFC/status/909519317091446786
https://twitter.com/BaguetteFC/status/909519317091446786
are we all gonna ignore the fact that Neymar actually came out of Cavani's shadow to collect the ball from Alves

— Talleyrand (@YoungBar0n) September 17, 2017

https://twitter.com/o31qas/status/909517385836744706
https://twitter.com/ebuka_akara/status/909727942242193408
Am sure Cavani is still pissed that Neymar was part of the team that demolished them 6:1 and here he is dragging setpiece with him.

— Uche Samuel (@uchesame) September 18, 2017
Neymar must have forgotten he was no longer at Barca..
He should be the playmaker now and not at the receiving end.

— Olúṣẹ́gun | Agba! (@the_olusegun) September 18, 2017
I wonder when he will learn the hard fact, give it to Neymar or face the sack, cos I'm sure the quatar owners will never back Cavani

— Baamofin Lu'Jesha (@O_Nifesq) September 18, 2017