Chinese billionaire and Founder of Alibaba Group, Jack Ma has made more donations to Africa. This is coming more than a month after he supported the areas of the world most affected by the Covid-19 crisis with medical supplies. The  coronavirus pandemic has put a massive strain on the world's healthcare system, with reports of inadequate medical supplies and the deaths of hospital workers as patients numbers continue to surge.
The first batch of medical supplies were made on March 16. They comprised of 20,000 test kits, 100,000 masks, 1,000 medical protective suits and face shields to each of the 54 AU Member States.
Also, on April 6, the philanthropist dispatched his second donation to Africa which included 500 ventilators, 200,000 suits and face shields, 2,000 thermometers, one million swabs, and extraction kits as well as 500,000 gloves.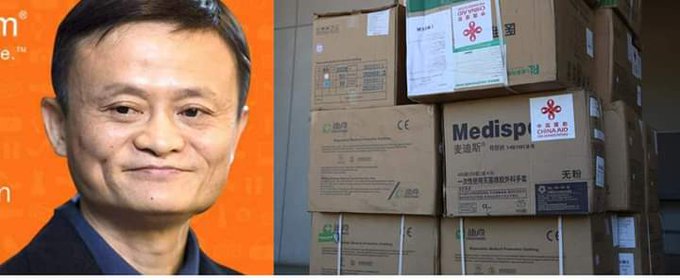 Also Read: NCDC distributes supplies from Jack Ma foundation.
He has announced another donation today, which is 500 ventilators that will be divided up among Africa's most vulnerable countries – they have few ventilators — or none at all. Meanwhile the number of confirmed coronavirus cases worldwide has reached 2.4 million, with most deaths coming from US: 40,400, Italy: 23,600  amd Spain: 20,595.
Our 3rd donation to Africa will immediately be made to @_africanunion and @AfricaCDC. This includes 4.6m masks, 500k swabs & test kits, 300 ventilators, 200k clothing sets, 200k face shields, 2k thermal guns, 100 body temp. scanners and 500k pairs of gloves. #OneWorldOneFight

— Jack Ma (@JackMa) April 20, 2020
Asked about offering assistance despite criticism, he said "I'm extending a helping hand as a Chinese citizen and Chinese entrepreneur, and for the common conscience of mankind."