Tottenham coach, Jose Mourinho has reacted to the punishment handed to the England and Tottenham midfielder over fan confrontation. The Tottenham player who climbed into the stand following Spurs' FA Cup exit to Norwich back in March to confront a fan who was arguing with his brother was banned for four matches and fined £40,000 by the Football Association. An independent panel ruled it was not his sole intention to protect his brother when he entered the stands that his behaviour was 'objectively threatening'.
The Portuguese coach is apparently not happy with the FA decision has chosen to keep mum on the matter. Asked about it ahead of Thursday's Premier League trip to Bournemouth, the former Chelsea and Manchester United coach said, "No reaction, I prefer no reaction. I am not going to answer if I answer I am going to be in trouble and I don't want to be. So no comment on that."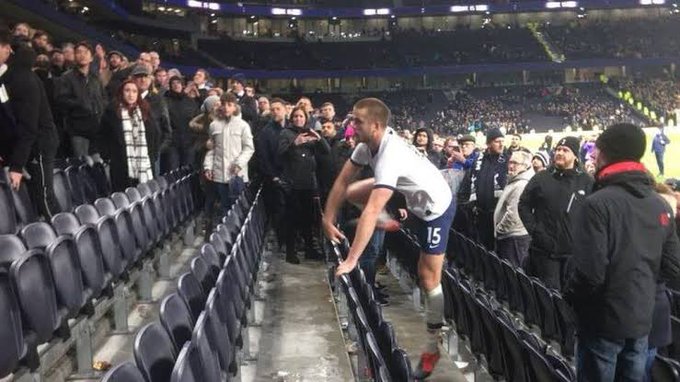 His ban means the 26-year-old will not feature in Tottenham's remaining Premier League fixtures. On appealing, he added: "I don't think so, if you appeal you have other risks. At least let's start next season without a suspension. We all know how it works at these FA decisions. You have access if you want to the record of successful appeals and unsuccessful appeals. I don't think so, I don't think we're going to appeal."
Speaking more on the player, Mourinho said, "I think he had a strange season." "He's doing well. We look forward to next season when he'll be a center-back." "He'll be an important player for us."
Also Read: Dele Alli handed one-match ban for social media post.
"We appreciate some filmed the incident and others simply watched. But, that of itself does not prevent it being, when viewed objectively, threatening. His conduct caused or contributed to the spectator fleeing. It is also no doubt why a number of people held him back from exit 103 and stopped him from pursuing the fleeing spectator. Eric Dier's conduct may not have been threatening to those holding him back, but we are satisfied it was threatening towards the spectator, and also when viewed objectively." The FA wrote