Did you read the disheartening riches-to-rags tale of former Arsenal star, Emmanuel Eboue?
48 hours ago, Daily Mirror told the story of how he contemplated suicide after losing everything to divorce. The Ivorian who earned millions of pounds in wages during an illustrious seven-year career in the Premier League now hides from ­bailiffs, sometimes sleeps on the floor of a friend's home, travels by bus and even cleans his clothes by hand because he has no washing machine.
"I want God to help me," he says. "Only he can help take these thoughts from my mind. Only he can help take these thoughts from my mind," Eboue added.
The Ivorian lost his grandfather, Amadou Bertin — who raised him before being diagnosed with cancer and his brother N'Dri Serge — who was killed in a motorbike accident all in 2016. He has also faced divorce from his wife Aurelie — who will be awarded all of their assets.
The defender who made 79 appearances for Ivory Coast said admitted he cannot afford a lawyer anymore and he stays scared and keeps himself away from meeting people.
 "I am in the house but I am scared. Because I don't know what time the police will come. Sometimes I shut off the lights because I don't want people to know that I am inside. I put everything behind the door. My own house. I suffered to buy my house but I am now scared."
"I am not going to sell my clothes or sell what I have. I will fight until the end because it is not fair."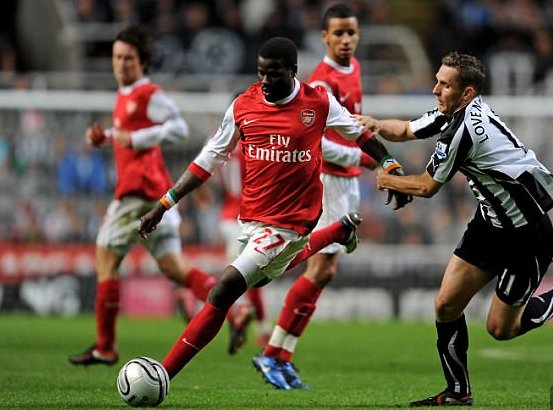 Eboue would have returned to Premier League (Sunderland) last year, unfortunately he was hit with a 12 month FIFA ban after a dispute with his former agent and that shattered the dream. He said he didn't receive guidance to manage his finances and he is paying dearly for being "naive" with money. And he now wants other young African footballers to learn from his mistakes.
He says: "I look back and say ­'Emmanuel, you have been naive… why didn't you think about that before?' It is hard. Very, very hard. The money I earned, I sent it to my wife for our children. In Turkey I earned eight million euros. I sent seven million back home. Whatever she tells me to sign, I sign. She is my wife. The problems with FIFA were because of people advising me. People who are supposed to care. But it was because of them FIFA banned me."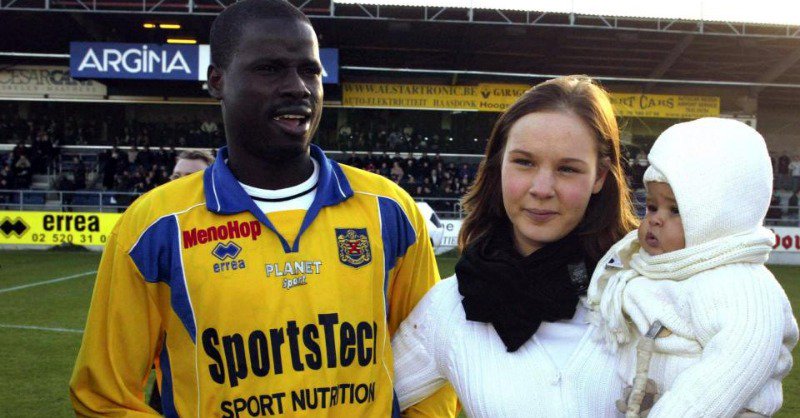 With his assets transferred to his ex wife, he now has an Oyster card and relies on London transport and trying hard to hide from the public. He spends his time between the Enfield house and the home of a ­confidante he calls his "sister" – Yasmin Razak. "I call her house The Bunker. I can hide there. She has children. I don't want to disturb them, so I sleep on the floor."
He said seeing friends like  former team-mate Thierry Henry, a football pundit on TV triggers negative thoughts makes him, "ashamed of my own situation. "When I see friends on TV that I played with or against I say to myself 'I should still be there'. It's hard to watch them."


It hurts deeply that he will not be spending Christmas with his kids daughters Clara, 14, and Maeva, 12, and son Mathis, nine. "It hurts me a lot. They used to call me. But now, no contact. It pains me to be alone without them."
"Every day I wash my jeans, my clothes, everything. My hands are hard. As though I have been working on a farm. I thank my grandmother because she taught me to wash, cook, clean, everything as a young man. I continue to thank God. I have my life. I didn't want what has happened. I don't wish it on anybody."
Eboue  would relish the opportunity to work with former club Arsenal or players' union the PFA.
He says: "I would accept help from anywhere but if my previous club wants to help me then I would be very, very happy. Maybe I could help the young players? The PFA helped me when I had my problems with my agent. If they gave me a job, even if it wasn't a big, big job. Maybe I'd see some of the people I played with or against and I'd feel embarrassed. But I would cope."

Update on his situation
Galatasaray boss Terim, who was moved after reading the shocking story of the former Ivory Coast full-back has been offered an assistant coaching role of their U-14 team at the Turkish club.  He will remain at the Florya facilities provided by the club and will be a salaried employee.