Few days ago, an advert by personal care brand, Dove showing a black woman turning white after using one of their products, a soap to be precise, sparked outrage online., with many labelling it racist and calling on friends all over  the world to boycott the company's products.
The company has issued and apology and withdrawn the ad. "An image we recently posted on Facebook missed the mark in representing women of color thoughtfully. We deeply regret the offense it caused."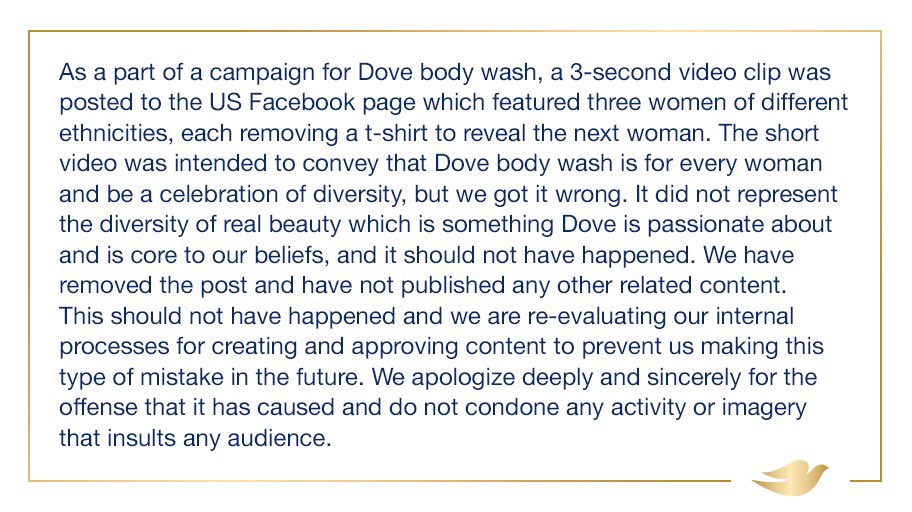 Well, Lola Ogunyemi, a Nigerian model at the center of the controversial advertisement has also defended the campaign, saying the message was taken out of context. Read her opinion below.
"From a very young age, I've been told, "You're so pretty … for a dark-skinned girl." I am a Nigerian woman, born in London and raised in Atlanta. I've grown up very aware of society's opinion that dark-skinned people, especially women, would look better if our skin were lighter.
I know that the beauty industry has fuelled this opinion with its long history of presenting lighter, mixed-race or white models as the beauty standard. Historically, and in many countries still today, darker models are even used to demonstrate a product's skin-lightening qualities to help women reach this standard.
This repressive narrative is one I have seen affect women from many different communities I've been a part of. And this is why, when Dove offered me the chance to be the face of a new body wash campaign, I jumped.
Having the opportunity to represent my dark-skinned sisters in a global beauty brand felt like the perfect way for me to remind the world that we are here, we are beautiful, and more importantly, we are valued.


Then one morning, I woke up to a message from a friend asking if the woman in a post he'd seen was really me. I went online and discovered I had become the unwitting poster child for racist advertising. No lie.
If you Google "racist ad" right now, a picture of my face is the first result. I had been excited to be a part of the commercial and promote the strength and beauty of my race, so for it to be met with widespread outrage was upsetting.
Calls were being made to boycott Dove products, and friends from all over the world were checking on me to see if I was OK. I was overwhelmed by just how controversial the ad had become.
If I had even the slightest inclination that I would be portrayed as inferior, or as the "before" in a before and after shot, I would have been the first to say an emphatic "no". I would have (un)happily walked right off set and out of the door. That is something that goes against everything I stand for.
However, the experience I had with the Dove team was positive. I had an amazing time on set. All of the women in the shoot understood the concept and overarching objective – to use our differences to highlight the fact that all skin deserves gentleness.
I remember all of us being excited at the idea of wearing nude T-shirts and turning into one another. We weren't sure how the final edit was going to look, nor which of us would actually be featured in it, but everyone seemed to be in great spirits during filming, including me.
Then the first Facebook ad was released: a 13-second video clip featuring me, a white woman, and an Asian woman removing our nude tops and changing into each other. I loved it. My friends and family loved it. People congratulated me for being the first to appear, for looking fabulous, and for representing Black Girl Magic. I was proud.
Then, the full, 30-second TV commercial was released in the US, and I was over the moon again. There were seven of us in the full version, different races and ages, each of us answering the same question: "If your skin were a wash label, what would it say?"
Again, I was the first model to appear in the ad, describing my skin as "20% dry, 80% glowing", and appearing again at the end. I loved it, and everyone around me seemed to as well. I think the full TV edit does a much better job of making the campaign's message loud and clear.
There is definitely something to be said here about how advertisers need to look beyond the surface and consider the impact their images may have, specifically when it comes to marginalized groups of women. It is important to examine whether your content shows that your consumer's voice is not only heard, but also valued.
I can see how the snapshots that are circulating the web have been misinterpreted, considering the fact that Dove has faced a backlash in the past for the exact same issue. There is a lack of trust here, and I feel the public was justified in their initial outrage. Having said that, I can also see that a lot has been left out. The narrative has been written without giving consumers context on which to base an informed opinion.
While I agree with Dove's response to unequivocally apologise for any offense caused, they could have also defended their creative vision, and their choice to include me, an unequivocally dark-skinned black woman, as a face of their campaign. I am not just some silent victim of a mistaken beauty campaign. I am strong, I am beautiful, and I will not be erased.
Source: The Guardian