Bayern Munich keep racking up victories with ease!
The German side are champions for the 5th consecutive time. The Ancelotti-led men thrashed Wolfsburg 6-0 to clinch the Bundesliga for a record fifth straight season. Ancelotti is now the first manager to win titles in four of Europe's top five' leagues, having won trophies with AC Milan, Chelsea, Paris St-Germain and now Bayern. Goals from David Alaba, Lewandowski, Arjen Robben, Thomas Muller and Joshua Kimmich added more glamour to the night.
No team in the Bundesliga has ever won 5 consecutive titles.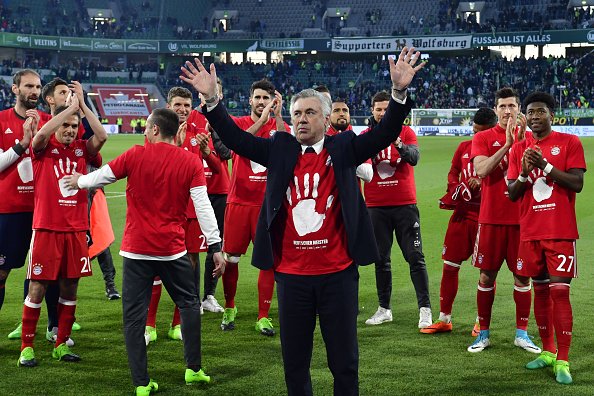 "I'm really happy. I'm lucky to be at this fantastic club with brilliant players and fans. I have such strong support from [Karl-Heinz] Rummenigge and all at the club. That is so important for a manager. I'm very lucky. I feel that this club is a family and I am in this family. The motivation was really high today. Of course the last two weeks were difficult but we used it as motivation. We can really enjoy this moment. We can do better. We could have been luckier in some situations in the Champions League and Pokal. We can learn from this and be better next season. Happy for my first Bundesliga. All thanks to my players, my staff, the club and the support of this fans. Very proud!" coach Ancelotti said