In what has been described as  the biggest-ever East investment in a European club, Italian football club, AC Milan has been officially sold to a Chinese consortium, Rossoneri Sport Investment Lux for €740m.
Representatives from both groups met in the morning in a Milan law firm and signed the documents which hand over the ownership and management of the club to the consortium headed by businessman Yonghong Li.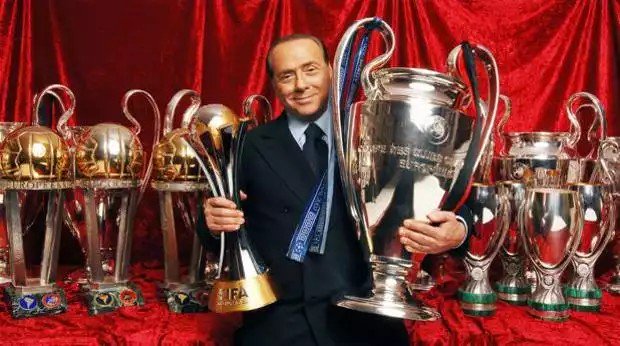 Silvio Berlusconi whose 31-year ownership of the club has come to an end said, "I today leave, after more than thirty years, the ownership and the presidency of AC Milan I do it with grief and emotion. I will never forget all the emotions that AC Milan gave me and to all of us. My deepest thank you from the bottom of my heart goes to our fans. To the millions of supporters who filled the stadiums. Without all [the fans], our glorious AC Milan wouldn't have existed and would not exist today. Together with [the fans], we won everything there was to win. I have in my eyes & in my heart, thousands of different moments. Although today I leave this position, I'll forever be Milan's 1st fan, the team my father taught me to love when I was a child. I wish the new management to achieve even more great results than we did."
A statement read, "Fininvest has completed the sale of the entire stake owned in AC Milan – equal to 99.93 per cent – to Rossoneri Sport Investment Lux," the statement confirmed.
"The closing is the last step of the purchase agreement signed on August 5, 2016 and renewed on March 24 by Fininvest CEO Danilo Pellegrino and David Han Li, as a representative of Rossoneri Sport Investment Lux.
"The terms of the agreement are the same as disclosed in August and reflect an aggregate evaluation of AC Milan equal to €740m, which includes the club's indebtedness, equal to €220m as of June 30, 2016.
"A €90m refund for AC Milan's running costs anticipated by Fininvest from July 1, 2016 hitherto adds up to the evaluation.
"The buyers also confirmed their commitment to undertake significant capital increases and liquidity injections aimed at strengthening AC Milan's financial structure."
The Serie A club have won eight league titles and five European Cups.