Ahead of the 2018 World Cup holding in the coming months in Russia, the Nigeria Football Federation have unveiled the official 2018 World Cup kits for the Super Eagles. The new home and away kits were launched in London yesterday February 7, 2018 in London at a ceremony attended by top Nigerian football stars, Kelechi Iheanacho, Alex Iwobi, Nigerian music superstar, Wizkid and a host of others.
The kit which was manufactured by Nike, was described by the giant sports wear company as "Audacious, Fast, Fun, Stylish". Interestingly, Nike noted that the new shirts are part of a collection which features Fast Fit Vapotknit technology to aid athletes' performance.
While the home kit features a familiar badge recolored to honor the 96 gold medal-winning Dream Team. According to reports, the e kit will be launched in Nigeria next month.
Check out reactions below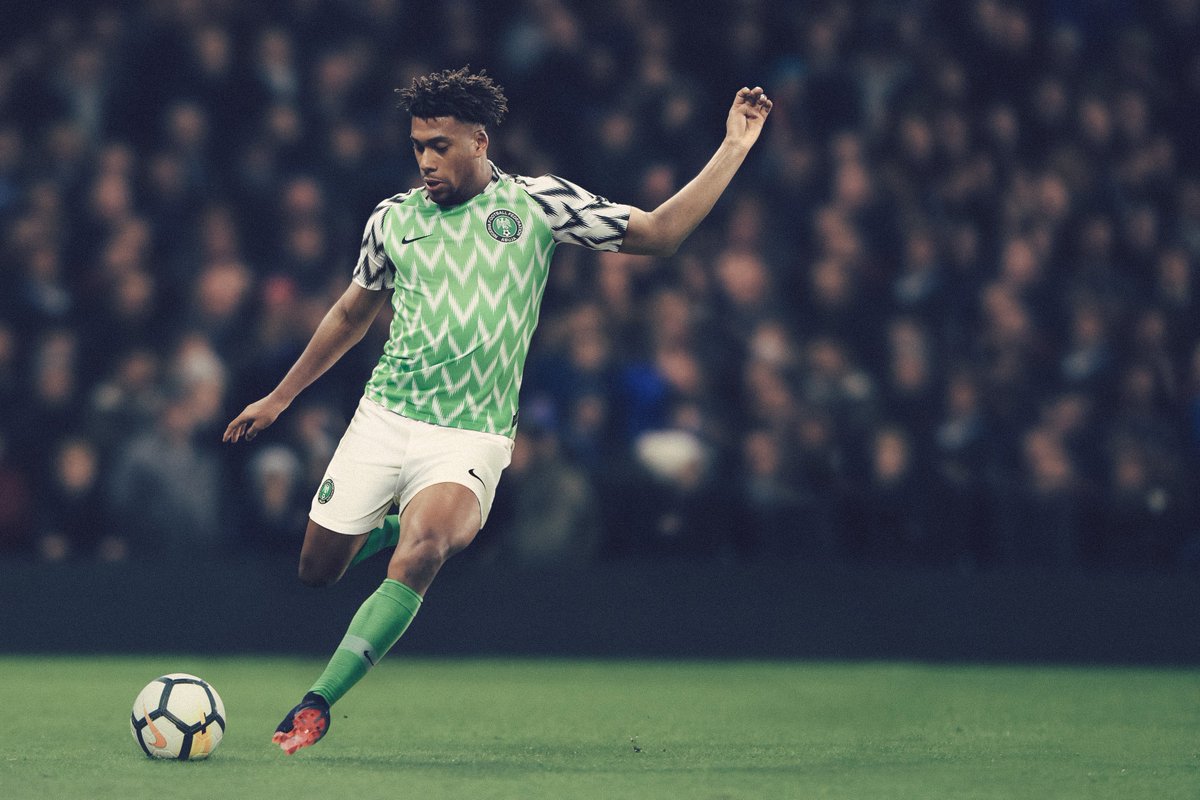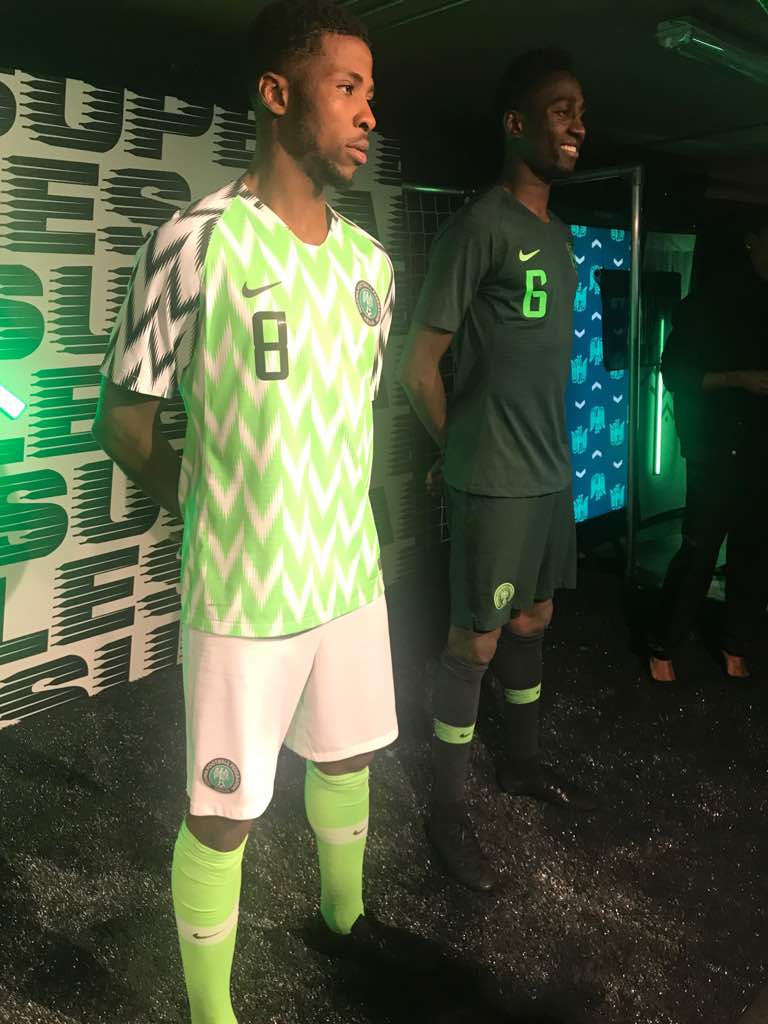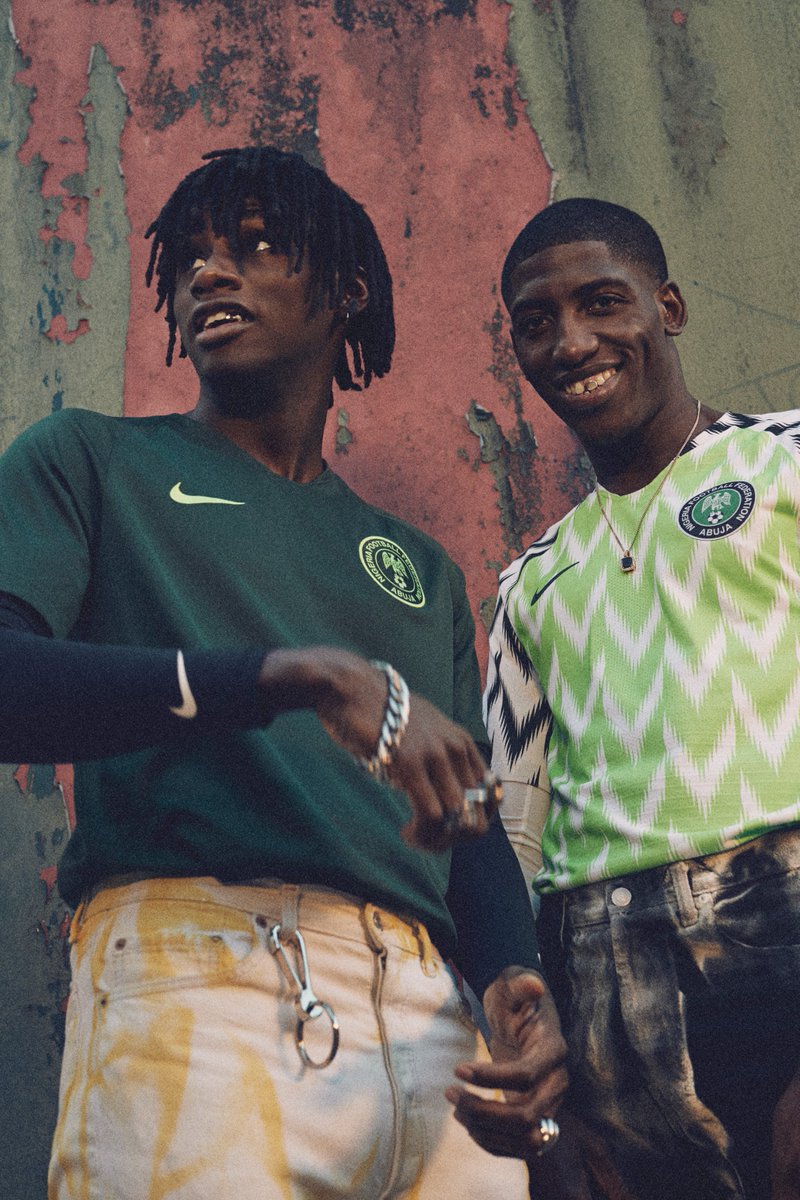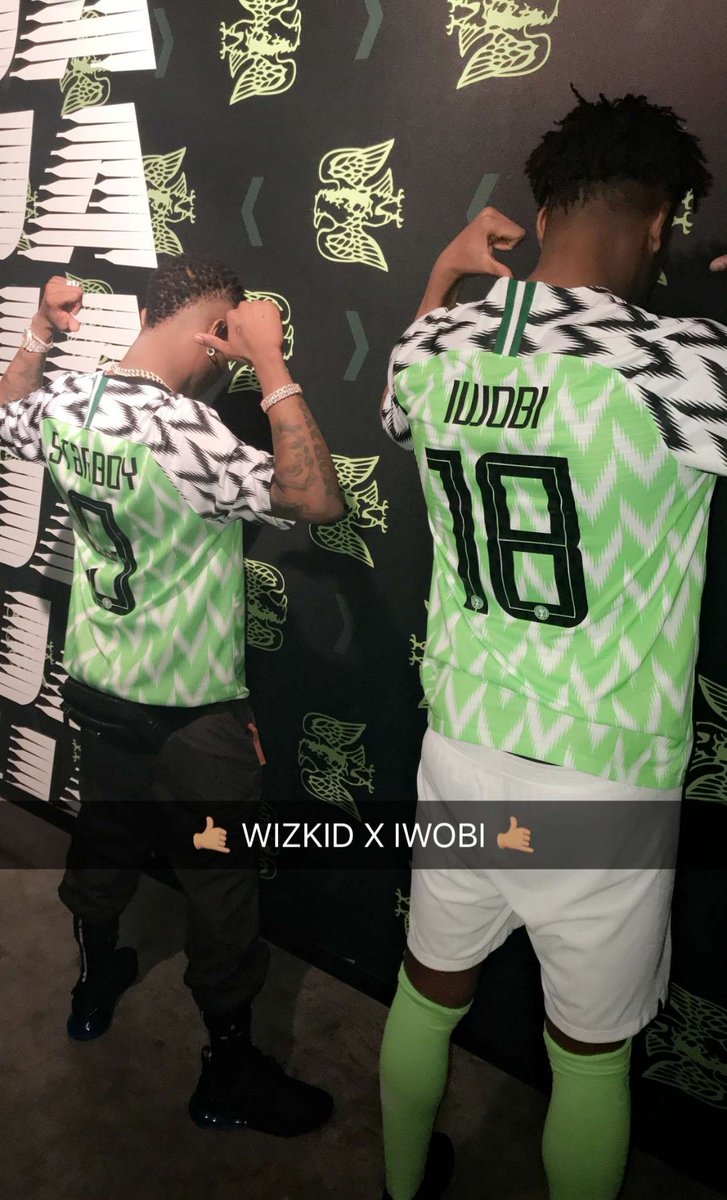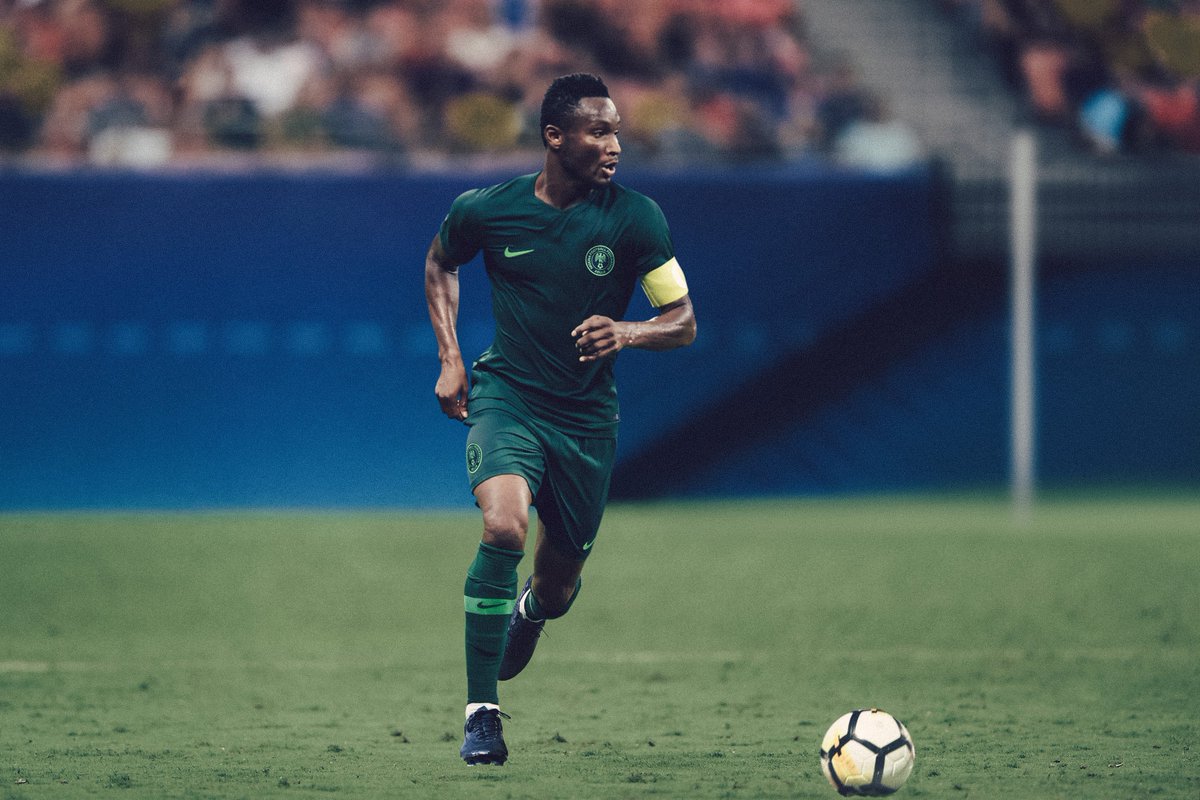 Nike went all out for this @NGSuperEagles jersey. Design, launch and most especially, PR. It is not a coinicdence the biggest news platforms have picked up the story and are even ranking it as the best world cup jersey. A sign that @thenff did some great work to excitee Nike too

— Babanla (@biolakazeem) February 7, 2018
Just wrong that you will do a Nike shoot for the Nigerian jersey and don't use kids that live in Nigeria. Like who does that? This our 'over there' mentality has to stop.

— Ayomide Tayo (@AOT2) February 7, 2018
Still on the Super Eagles jersey, I would have preferred a darker shade of green, like this on the right. And the lemon numbering on the 2nd kit is a bit meh too. Am I just looking for perfection? I don't know… pic.twitter.com/lgJovDZyyu

— Deji Faremi (@deejayfaremi) February 8, 2018
Nigerians with their bad mouths. "Meh"… "This looks terrible". As far as jerseys go, this for me is a fantastic effort from Nike. Unique, daring with a dash of nostalgia all in one. Una no sabi better thing.

— Teekay 'Yombo (@seantoksy) February 8, 2018
I can't hold it anymore 😭😭 the new super Eagles jersey is ugly AF! that white one. I prefer the dark green one, yeah I said it!

— Lidocaine (@trending_medic) February 8, 2018
I love the New Super Eagles Jersey…
They should make sixes available for kids too and the price should be 'normal'. It's also perfect as a gift. @Nike 's Collabo with @thenff on this is very commendable.

— Babajide Fadoju (@BabajideFadoju) February 8, 2018
All aba boys needed was a sample of the super eagles Jersey and now they got it….Nike said Nigerians should wait till June,aba boys already done with first sets over night,sales begins this morning in east and will flood Lagos by Monday….don't dull bros

— Edo-Wizard 👹 (@davidoghe) February 8, 2018
Scenes when Messi sees the Super Eagles jersey and feigns injury because the 4-0 that we will give them is reputation-damaging

— Imoh Umoren (@ImohUmoren) February 7, 2018
Super eagles jersey so wack mehnnn … Looking like well designed Kampala

— Edo-Wizard 👹 (@davidoghe) February 7, 2018
Lets jst pray the jersey stays long at the tournament…..make them super eagles 🦅 no go waste jersey for us for Russia

— T. Adeleye-Davids (@tiiboi) February 8, 2018
We're all buying the new Super Eagles jersey …. Aşo Ębi toh Sploopheeeek..👍

— MÖÖDY🇳🇬MÖNKEY (@Daddy__Sanchez) February 8, 2018
The Super Eagles have won the Jersey World Cup already. I'm hereby fulfilled. 😄#WorldCup #FlyEagelsFly

— Black Walker (@O_LBJ) February 8, 2018
I think the IGP should be after those saying super eagles jersey is not something of beauty. They are the real enemies of Nigeria.😯

— Life design!.🆖 (@young_xon) February 8, 2018
There's nothing spectacular about Super Eagles jersey but like i tweeted earlier… 'Everything is overhyped these days for the sensationalism.'

— MATIC (@KR3Wmatic) February 8, 2018
I'm surprised by the reaction on the Super Eagles jersey. Almost everyone really likes it.

An average nigerian has a way of condemning anything, but seems we are becoming different.

— Amosun Dolapo (@Its_Dolypizo) February 8, 2018
This Nigerian jersey will be making us look like "Super Peacocks" on the pitch

Instead of the eagles that we are 😒

— גִּדְעוֹן (@GIddOX) February 8, 2018
Be content with what you have! The Super Eagles' jerseys are beautiful for every clear eyes to behold. What we need is to win the prestigious world cup and, not too expensive Jersey. Stop making our boys look inferior to others.

— Ademola Akindele (@AdemolaAkindel4) February 8, 2018
Dear Igbos,

You see that Jersey that NIKE just did ennnn, please don't do the NIKA version biko 😅

— ÖMÖ AKURE 🇳🇬 (@JohnOdedeji) February 7, 2018
Let's just get this straight. If you don't like the new Super Eagles jersey, then I don't like you. Simple! 😑😡😠

Nike finish work jare!

Ehen! Now, to the price, @TheNFF and @NikeFootball, how far?

— Nejeeb Bello (@Bar_Baric) February 8, 2018
From the Super Eagles' kit unveiling, 3 players are guaranteed to be in Russia.

Iwobi
Mikel

Wizkid 🤣

— POOJA… (@PoojaMedia) February 7, 2018
Dear @thenff Nike have delivered our World Cup kit to the highest quality and standards they are used to. Please don't allow off the field issues that have historically plagued our preparations to spoil our plans for a great World Cup this year.

Be professional.

Just Do It.

— DaddyYoPierre 🖖🏾🔴 (@officialdaddymo) February 8, 2018