Real Madrid's Sergio Ramos and Barcelona's Gerard Pique's rivalry is far from over, not in the nearest future.
The pair renewed their feud during last night's el-clasico which ended 3-2 in favour of  Barcelona, thanks to a late strike by Lionel Messi.  Ramos was banded a red card at the 77th minute after an attempted two-footed tackle on Messi; his 5th red card in the fixture and 22nd in his entire career.
As Ramos was leaving the pitch, he sarcastically clapped at his arch enemy, uttering some unclear words which seemed to suggest that that the war was far from over.
During his post-match Gerard Pique wasted no time in attacking his opponent.  "When Sergio Ramos gets home, he'll regret for what he did. The red card is very clear. He goes in two-footed and Messi was away. Here in Santiago Bernabéu, they're used to very lenient refereeing and when a referee does a good job he's then the bad guy."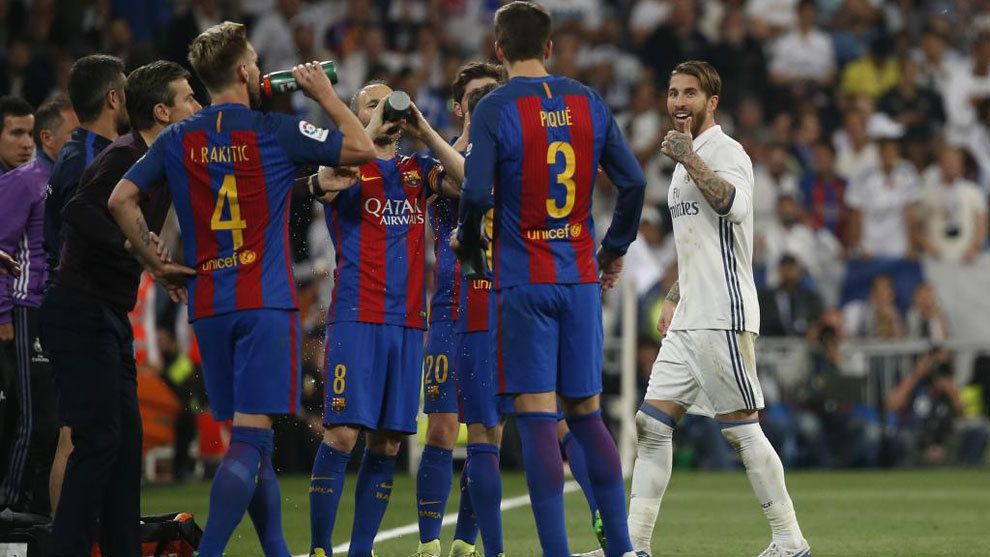 Ramos sprang up in his own defence saying, "Piqué likes to talk about the referees, and with so much pressure & with his tweets that he complains all the time. For me the red card has been excessive , I admit that I'm late with my tackle but I wasn't looking to hurt him. I do not regret the gesture to Pique. I regret leaving my team down to 10 men. I have no problems with Pique but just don't ask me all these questions expecting that I'll hug him right after. I was clapping at Pique, not at the ref. He defends his & I defend mine. When we aren't together we defend what is ours. They always talk about the refs but we won't. Perhaps give the result they won't this time."
He added in another interview, "Messi did very well against my tackle, he jumped and you could see that I didn't touch him. I know Pique said that I'd regret it once I saw the images, but after five minutes of cooling off, I feel the same way."