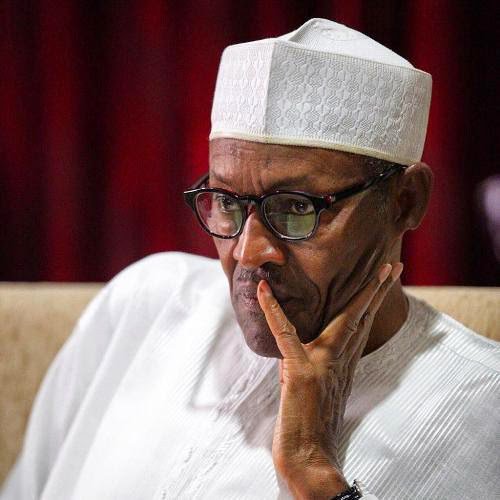 I felt totally embarrassed watching the disgrace called the presidential media chat. It is totally shameful that we are still staging this kind of farce as presidential media chat in Nigeria. The organisers of these so-called presidential media chats should note that it is nobody's fault that the president cannot adequately express himself and defend his own policies. The president should have known what he was getting himself into when he decided to contest for election.
Patronising the president with nursery school questions won't do him and the nation any good. Where did they find those so-called journalists who couldn't ask critical questions and make the president sweat and make him openly defend all the crazy policies of his that are already causing unnecessary hardship for everyone in the country for Christ's sake? Till date, nobody has a clue of how the president intends solving the epileptic power situation in the country and he hasn't uttered a word on how he will revive the economy. We don't even know if he has a plan for anything. For God's sake, why didn't they ask him about the two cars given to him by the office of the NSA? How come he didn't declare them among his assets? If the presidency can't organise a simple thing as a media chat, how can they govern the country properly?Nawa oooo!!!
They should have asked the president what type of government he operates. This surely is not democracy. He has to define this new system of government he has introduced, because his total disregard for court orders is what I was taught in school as dictatorship. Hearing him defend the disregard for the rule of law in the cases of Sambo Dasuki, Nnamdi Kanu and Patrick Akpobolokemi in his media chat was very disturbing. The president is obviously not living by his oath to protect the constitution. Where are all the pro-democracy activists that fought the government of Sanni Abacha to a halt? It is time to rise up and challenge President Buhari before things get out of hand. We must not sit back and allow this brand new dictatorship to mature and throw us in the same path with Zimbabwe. Orders from the courts must be obeyed by everyone, including the president. Whether Dasuki or Nnamdi Kanu are guilty or not is secondary. The rule of law and the constitution is paramount. That the State Security Service and DSS operatives refused to allow Dasuki go home on bail, even after the court granted him bail, is totally undemocratic and casts a shadow on this regime. Nigerians must stand firm against this impunity now before it destroys the judicial system and throw the entire nation into a state of anarchy and lawlessness.
The proposed 2016 budget is the most corrupt in the history of Nigeria
N3.7bn for the purchase of unspecified number of BMW salon cars for the Presidency's principal officers: Every year, we keep buying new cars for these government officials. What happened to the cars purchased for the officials of Jonathan's government a couple of weeks back? Did they take them home? I thought with President Buhari's change mantra, the era of reckless spending and frivolities are over. But a whopping N3.7bn on cars is the worst I have heard so far.
N189m to buy tyres for various vehicles being used in the Presidency: So after they have spent N3.7bn buying cars, another N189m will be spent on buying tyres for the cars? The cars wey dem wan buy no go come with tyres? Abi na tokumbo cars dem wan buy with N3.7bn, wey dem wan change the tyres? Even if dem wan change tyres sef, how much be tyres for market? Naija I hail oooo!!!
N1.415bn for local and international travels, 46.7 per cent more than what Jonathan allocated for the same item in 2015: Oga president, where you dey travel to wey you wan spend N1.415bn? Even if you wan go clubbing for moon every weekend, oga dat money too much. Ahan make una so softly softly dey chop wack dis our money naa!
N326m allocated for Aso Rock Wildlife Conservation, including the purchase of exotic animals as against the N24. 6m budgeted last year by Jonathan: These guys must be kidding me. Exotic animals? What kind of exotic animals? Are they planning purchasing whales and anacondas for the president as pets? I have been to the presidency and all I saw were dogs. And Jonathan spent N24.6m. Now Buhari is planning spending N326m. Even Mobutu Seseseko wey get crocodiles no spend reach dis amount of money.
N89m for the acquisition of presidential canteen materials and kitchen equipment for the Presidency: What kind of kitchen equipment are they talking of here? Except they are telling us that in this canteen, you will be fed by robots. That all you have to do is open and close your mouth and swallow. Even at that, N89m is damn too much. And what happened to the kitchen equipment used in Jonathan's time? Abegiii, this is total madness.
N102.9m foodstuff and catering materials: Hahahaha, so catering materials are different from kitchen equipment? Mehn, I love naija. We have our own definition for everything. Whoever came up with this budget must be rewarded with the "Member-of-the-Order-of-Scammers" (MOS) award for his ingenuity.
N104.7m on refreshments and meals for State House: Hmmmmm! No comment. Na only God know wetin dem dey chop for this state house. I sure say even Idi Amin Dada wey get human meat for him menu, no spend reach N104.7m on meals. May God help us.
N16.6m for supply of foodstuff and catering services for the Vice President's office in 2016: Hmmmm!! So Osinbanjo too sef go chop N16.6m from the budget? Haaa… I think say na only Buhari waka come ooo! This is definitely the government of the choppers, by the choppers and for the choppers.